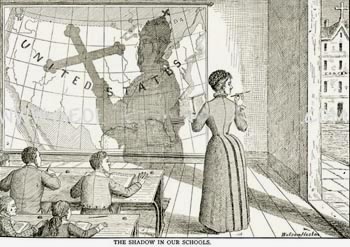 As I understand the Supreme Court ruling allowing the town board of Greece, New York to continue to open meetings by invoking Jaysus, and by extension any state or local government body to open meetings or begin events with equally explicitly Christian prayers and pieties---and I probably don't understand it--- a premise of the majority of the Justices is that the majority rules, at least when it comes time to pray in public, but that's ok because nobody in the minority ought to feel offended, coerced, preached at, marginalized, or spiritually or culturally bullied because those prayers don't really mean anything.
They're mere formalities, nods to tradition, and if you don't believe in any of the nonsense or if you do but don't like the sound of hypocrites praying in public, you can leave the room, plug your ears, or sit there smiling politely but laughing inwardly at the rubes, but basically deal with it the same as you deal with other annoyances like the reading of last week's minutes, the droning of one of your neighbors going on about his taxes, or the breaking down of the air conditioning.
Not exactly how the Justices put it, is it?
But, boiled down, that's what the decision asserts. It won't hurt you to have to listen to Christian chaplains saying Christian prayers because no one's telling you you have to believe any of it or is forcing you to pray along.
There's an irony here in that Justices Roberts, Alito, Scalia, Kennedy, and Thomas are all Catholics and they ought to know that one of the reasons the school day doesn't open with prayers at public schools is Catholic parents didn't want their kids forced to say Protestant prayers.
They saw a big difference between the Lord's Prayer and the Our Father.
Thought experiment for advocates of bringing back prayer in public schools:  OK, after the Pledge of Allegiance, let's have the kids say the Rosary.
Prayers aren't simply strings of lofty-sounding words repeated by rote in reverent tones with no purpose except to acknowledge a nonspecific belief in a deity, and opening a meeting with a prayer isn't just a high-minded way to set a serious tone and call the crowd to order and get them to focus together on matters at hand.
Prayers are freighted with doctrine, with traditions, with history, and with intention, and opening a meeting with a prayer is intended to involve God in the proceedings in a direct way and put Him to work.  It effectively turns the business of self-governance into an act of faith.  The question is, Whose faith?  Who is this God and how much influence is He meant to have? He's almost never invited in as a neutral observer.  How will He vote? Who gets to speak for Him and act as his proxy?
The majority, both on the Supreme Court and in any given meeting room, legislative chamber, or school auditorium, would say, the majority.
That's how democracy works, isn't it? The majority rules?
And the majority happens to be Christian.
The United States is a Christian nation, if not by law then by culture, history, and tradition.  The great majority of people who have been citizens of the United States have been Christians and they've naturally infused the daily life of the country with their beliefs, practices, and traditions.  Our art and our literature are informed by Christian imagery, Christian thought, Christian metaphors, tropes, and figures of speech.  Our language---American English versus what they spoke back in England---was invented by people who learned to read and write from their Bibles.  Christianity suffuses our cultural life and contributes mightily to defining our identity as a people and a society.  Conservatives don't understand why liberals have a problem with this.  After all, Abraham Lincoln, Franklin Roosevelt, Martin Luther King, and Jimmy Carter were guided by their Christian faith and used explicitly Christian language in their speeches.  So does Barack Obama. The daily life of the Republic is bound to be full of public expressions of the majority's religion. Anybody who isn't Christian has to acknowledge and accept this.  Non-Christians have no right to demand that the majority pretend they aren't what they are just because it makes them uncomfortable to be reminded this is a Christian country. 
Why is this so hard?
I think many people think there's a generic form of Christianity and all the denominations preach only minor variations on the same themes, and for the sake of getting along Christians---Baptists, Methodists, Episcopalians, Lutherans, Evangelicals, Catholics---can ignore the variations and sing the same hymns and say the same prayers without giving it much thought.
I'm going to take this further.  I think a lot of people think this generic Christianity is also a generic religion, or, rather, they think this generic Christianity is the only religion and all other faiths are variations of it, it's just that many of those faiths keep forgetting to invoke Jesus' name in their prayers and scriptures.  This being the case, it shouldn't matter to you if your prophet is Jesus or Moses or Mohammed or the Buddha. We're all really praying to the same awesome God, as Barack Obama once eloquently and I think naively put it. It shouldn't matter if the prayers we're asked to say together in public sound Christian, because they're all going to the same place.
I don't know which, if any, of the conservative Catholic justices think this, but reportedly during arguments for another case Antonin Scalia was confounded to learn that some people don't regard a cross in a military cemetery as a universally accepted generic symbol of respect for the dead, the graveyard equivalent of a red cross on the arm band of an army nurse or the roof of a field hospital.
Someone should ask Scalia if he really doesn't know that crosses are placed in cemeteries as comforting reminders of Christ's resurrection and what that promised for the rest of us, the rest of us who are saved, that is. While they're at it, they can ask him if he understands the difference between a cross and a crucifix and why you don't often see the latter in Protestant cemeteries or churches, for that matter.
There has never been a generic form of Christianity practiced by a majority of Americans. The greater part of the Northeast was settled by Christians escaping persecution by other Christians who very quickly went to work persecuting even other Christians in their midst.  The First Amendment wasn't written and adopted to protect freedom of worship as an abstract principle. It was put in to prevent any one group of Christians from telling other Christians how to worship.
Even with freedom of religion Constitutionally guaranteed, we have not been nearly as tolerant of each other's differing faiths as we like to congratulate ourselves on being.
Leaving aside our long history of anti-Semitism and what American Muslims have had to face going back since before 9/11 but angrily intensified since then, for the sake of those Catholic conservative justices, take a look at the cartoon up top. Catholics haven't always been particularly welcome here.  Anti-Catholic riots were routine in the first half of the 19th Century.  Prohibition was in intention and effect anti-Catholic and anti-immigrant as the Protestant majority attempted to impose tenets of their religion on the Catholic and Jewish minority. 1928 wasn't likely going to be a Democratic year, but that Al Smith was Catholic played no small role in his trouncing in the Presidential election. In 1960, John Kennedy had to go before a gathering of Protestant ministers and promise that if elected President he would stop being a Catholic.
My point isn't that Catholics are a persecuted minority. It's that these Catholic justices ought to know better.  The idea that the minority have no reason to be bothered by having to sit still and listen to the majority assert their faith glosses over history.  Not only that, it ignores current political realities.
The majority of Christians aren't adherents of any of the what used to be mainstream Protestant churches. The majority are either Catholics or Evangelicals, and there's no making a generic Christianity out of them.  For one thing, however much they might seem to agree on abortion, gay marriage, and birth control (which, among the faithful if not the clergy, is not as much as it used to be and is growing less and less), they do not get along. It's the old Faith versus Good Works divide. A Christian United States that leaned Catholic might outlaw abortion and ban gay marriage but there would also be a ban on capital punishment, amnesty for undocumented immigrants and a more open and welcoming immigration policy in general. Labor unions would be encouraged and empowered, we'd have a national economic policy focused on alleviating poverty, redistributing wealth downwards and sideways and not just upwards, stewardship of the environment would be a national virtue, and racism and greed would be called out as the sins they are.  There might be a return of prayer in schools, although I'm not so sure of that, but Creationism would not be taught in science classes. It wouldn't even be taught in religion classes.  The Church has come a long way since the Inquisition showed Galileo the instruments and Catholics have no problem with evolution or the Big Bang. I wouldn't be surprised to learn Pope Francis is a fan of Cosmos. In short, in many ways we'd be living in a more Democratic and liberal country.
Evangelicals wouldn't sit still in the pews and let that happen.
In fact, they are working hard to prevent it and reverse it wherever they can.
And that is the rub.
The majority of Evangelicals are Right Wing Republicans.
And they do not distinguish between their religion and their politics.
As I said, there never was a generic form of Christianity, but if there was, it would not be the form preached and practiced by those Right Wing Republicans, the form they are imposing on the states where they control the legislatures, the form they intend to impose upon the whole nation should they get control of all the branches of the federal government.
They aren't the majority nor are they representative of it, but they don't accept that.
They are the majority in their own minds because in their minds they are the only ones who count.
Their religion and their politics are inseparable and practically indistinguishable. Both are divisive and exclusive, separating an Us from a Them, the saved from the damned. Making a show of religiosity in public is a hallmark of and a point of pride for those Christians.  Praying in public is their thing and they are praying for some very specific things that amount to their being able to impose upon the rest of us their religion, a religion that is avowedly and strenuously proselytizing, proudly exclusive and exclusionary.
They worship a God who takes sides. Well, really one side. Theirs. They believe in a Jesus who asks for nothing but loud affirmations of personal salvation. After that, storing up treasures on earth, hating their neighbors, casting stones,  and whatever they feel like doing to the least of their brothers and sisters is their business and their right. Their Jesus is a purely totemesque figure. They invoke his name not for what he taught but for what his name signifies.
Tribal identity.
They want a nation that is illiberal and undemocratic, that is Christian only in privileging Christians of their ilk, that is authoritarian, patriarchal, and white. And that is what they are praying for.  And that is what those of us forced to listen to their prayers at our meetings are meant to hear and put up with.
"This is our country. Our God gave it to us. You are here by our sufferance and if you don't like that, you can just get out. Otherwise, remember, we own the place and we get to do with it what we want.
"Can I get an amen?"
______________________
Like I said, I probably don't understand the ruling but I'm sure Scott Lemieux does.
And the invaluable Dahlia Lithwick does too.
______________________
Justice Kagan answers my sarcastic question above, Why is this so hard?
By authorizing and overseeing prayers associated with a single religion—to the exclusion of all others—the government officials in my hypothetical cases (whether federal, state, or local does not matter) have violated that foundational principle.

They have embarked on a course of religious favoritism anathema to the First Amendment.

And making matters still worse: They have done so in a place where individuals come to interact with, and participate in, the institutions and processes of their government.

A person goes to court, to the polls, to a naturalization ceremony—and a government official or his hand-­picked minister asks her, as the first order of official business, to stand and pray with others in a way conflicting with her own religious beliefs. Perhaps she feels sufficient pressure to go along—to rise, bow her head, and join in whatever others are saying: After all, she wants, very badly, what the judge or poll worker or immigration official has to offer.

Or perhaps she is made of stronger mettle, and she opts not to participate in what she does not believe—indeed, what would, for her, be something like blasphemy.

She then must make known her dissent from the common religious view, and place herself apart from other citizens, as well as from the officials responsible for the invocations. And so a civic function of some kind brings religious differences to the fore: That public proceeding becomes (whether intentionally or not) an instru­ment for dividing her from adherents to the community's majority religion, and for altering the very nature of her relationship with her government.
Hat tip to Eric Zorn.