In celebration of National Poetry Month, a guest post from our old friend Steve Kuusisto, poet, essayist, memoirist, and would-be baseball umpire.
There's a free book offer at the end. No box tops required.
Why Study Creative Writing?
(Originally posted at Planet of the Blind, June 2011)  I am teaching this week at the MFA Writing Program at Pacific University in Forest Grove, Oregon. I've been on the faculty of this "low residency" graduate writing workshop for the past four years and every time I come to Pacific I'm reminded of what it felt like when I was in my early twenties and in love with poetry for the first time. Maybe I should say "with all of literature for the first time" but I tend to let poetry stand for every literary genre--that's how it is inside my cave of making.
Voted one of the top five low residency MFA programs in the country by the Atlantic Monthly, the PU workshop earns its stripes because of its riverboat quality--there's a blending here of teaching excellence alongside the life experiences of the students. I could say "the talent of the student body" but you don't get into a graduate program in literary writing without that and, more to the point, it's experience that mulls the hard knocks and unexpected joys of life, thereby giving you something to write about. The students at Pacific have plenty to write about. Most of them have day jobs that would prevent them from going to a residential full time grad program in Iowa City or Gainesville--there are great programs at most major American universities--it's just too hard to leave the adult world entirely behind to study literature. Of course in these steep times one might argue that studying literature is hardly a necessity--why bother, one might ask--why trouble yourself to become what Charles Dickens described as "an ink stained wretch"?
I can't answer that question, never could. When I was twenty I read a poem by Robert Bly, a short lyric poem from his first book entitled Silence in the Snowy Fields and that was it for me. I was instantly a stolen boy, the one who is taken into the woods by a troll and who, ever after picks the wild lingonberries and drinks a private brand of tea. One fine day the poem takes you across the lake just as a sermon once took your grandfather or a Scottish song, heard by chance, entirely by chance, kept your great grandmother alive. All the words are mysterious, pregnant and weird as isotopes. The word passes through you and nothing is ever the same.
I was a college student when I discovered Robert Bly's work and soon I was reading everything I could get my hands on: Emily Dickinson, James Wright, Robert Lowell, Ann Sexton, Frank O'Hara, Marvin Bell, W.C. Williams, H.D., man I was hooked. I was lucky to be at a liberal arts school where my father was on staff and accordingly I was getting a free education. I didn't feel any guilt for reading poetry all night. I'd been stolen by "La Belle Dame sans Merci" and that was that. Another way to think of this is that I understood early on that there was really nothing I'd rather do in this life than read and write. I also saw that I'd be useless at any other activity. And it goes without saying that being blind might have helped me know this with more certainty than others might--I wasn't going to drive a truck or study astronomy.
But what if I did have a career or a domestic life to fall back on? Would I have taken it, sallied forth onto the highways, had a job to make ends meet, and all the while still have had the brandy colored eyes of Emily Dickinson staring at me in my private moments--always knowing that I was secretly in love with her and not with the corner office or the suburban yard filled with tricycles and garish swing sets? You see how it is. Not everyone is as lucky as I was--twenty years old and largely certain that poetry was it. Most of us have to make do and put away childish things. Then we talk privately all our lives, whispering to Emily Dickinson that we're sorry, we're really sorry to have left her all alone in her white dress--Emily, half blind herself, standing at the northern window of her bedroom, watching the sun go down with her one clear eye. Emily, we're sorry. But we have to go get the brakes aligned and pick up the kids at daycare and then we have to get the dry cleaning. We're so sorry.
This is of course what I love about teaching the students at Pacific. While some are in their twenties, most are a smidgen older--most have spent their days saying how sorry they are to Emily. I'll argue that the students in low residency MFA programs like the one at PU are alive inside, alive in ways that many Americans are too afraid to uncover. They are people who decided that their secret love is still there, still waiting for them. Criticize me for sentimentality if you wish, but this is true.
Why study writing? Because it's a pleasure, a romance with ideas. And because much of our national life will steal this from you hour by hour. Because we need more poems and stories, more essays that defend the environment, memoirs and narratives about cultural history, personal history, surprises and safe homecomings.
***************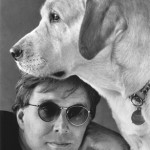 Professor Stephen Kuusisto, blind since birth, is the author of "Eavesdropping: A Memoir of Blindness and Listening" and the acclaimed memoir "Planet of the Blind", a New York Times "Notable Book of the Year". He has also published "Only Bread, Only Light", a collection of poems from Copper Canyon Press. As director of the Renee Crown University Honors Program and a University Professor at Syracuse University, Steve speaks widely on diversity, disability, education, and public policy.
In celebration of National Poetry Month, Steve is giving away one free autographed copy of his book, "Only Bread, Only Light" (Copper Canyon Press), to a reader of this blog. To take advantage of this offer, leave a comment below then Contact Steve to leave your (confidential) contact info. Your name will be entered in a random drawing. The winner's name will be posted below.