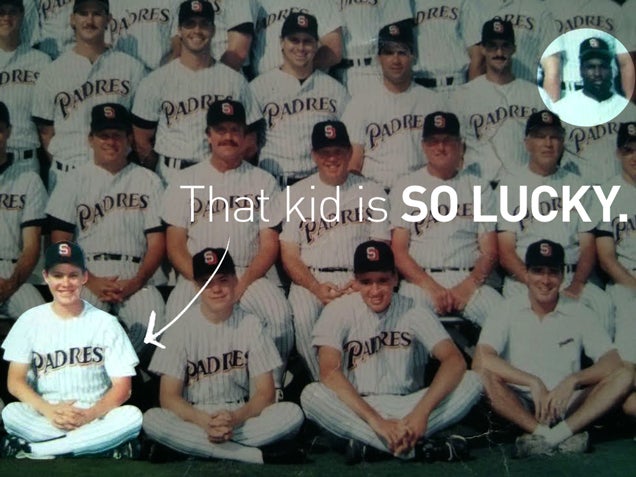 This one's going to make you cry even if you're not a baseball fan, even if you're only dimly aware of who Tony Gwynn was and what he did, even if you'd never heard of him, which, if that's the case, after reading this you're going to be glad you now have:
I wasn't alone in my worship among my friends, but I tried to do it best. Most of my friends had a Tony Gwynn poster on their walls—I had at least eight. Tony Gwynn growth charts. Tony Gwynn sliding into home. Tony Gwynn in a "Hitting Machine" poster, done up in the style of architectural renderings to capture the mechanics of his swing. Newspaper clippings covered my door. Shirts, mugs, hats, you name it—all bore Tony's face. I would mentally recite Tony's biography to myself each night instead of counting sheep. ("Anthony Keith Gwynn was born on May 9, 1960. His parents were Charles and Vandella Gwynn. He had two brothers, Charles and Chris …").

These were the late 1980s. Back then, a kid's illusions about his sports heroes were much harder to shatter. There was no social media to lift the veil and let you see the plain truth. Talk radio was fairly sanitary, especially in sleepy little San Diego. The local newspaper may have had harsh words, but those were reserved for upper management—the players, especially Tony, were granted a decorous exemption. So my idolatry continued unchecked. I collected Tony's cards and had a few chance encounters with him over the years, like the time I was introduced to him by my neighbor's ex-husband who happened to be his college roommate. (I told you San Diego was a sleepy little town in those days.) I continued to recite his bio, which I updated to include each passing season, the birth of his kids, his stats, to get myself to sleep. "Tony's son, Anthony Gwynn Jr., was born on …"

<snip>

You know where this story ends for most kids. They idolize a figure they know from afar, they get an improbable chance to meet the guy, and he turns out to be a bum. He cheats on his wife. He kicks over trashcans. He shouts at clubhouse attendants. My first day at the stadium, I stood getting dressed in my sparkling new uniform in the bat-boy locker area, which was tucked around a corner from the main locker room, and located about 10 feet from the bathroom. Players filed by, most of them ignoring us. Suddenly, he appeared.

"Hey," he said to me, holding out his hand. "I'm Tony. How are you?" Flustered, I stammered, "Uh, nothing much." He laughed.

He laughed! Have you noticed that the tributes to Gwynn all seem to mention his laugh? The man's laughter illuminated the room. "Best sound I've ever heard in my life," ESPN's Chris Berman said in the locker room one day, after I'd sheepishly hauled out my Chris Berman baseball card and asked for his autograph. Somebody—my memory says it was Bruce Hurst—said, "I know that's your rookie card, Chris, 'cause you've got hair in that photo." Tony laughed for the next five minutes straight, literally holding his sides he was laughing so hard. The joke was lame, but who cares? If the payoff is hearing Tony Gwynn laugh for five minutes, I'll sit through anything.
Read all of David Johnson's story, I Was Tony Gwynn's Bat Boy, at Deadspin.
Photo via Deadspin.
Hat tip to Scott Lemieux.