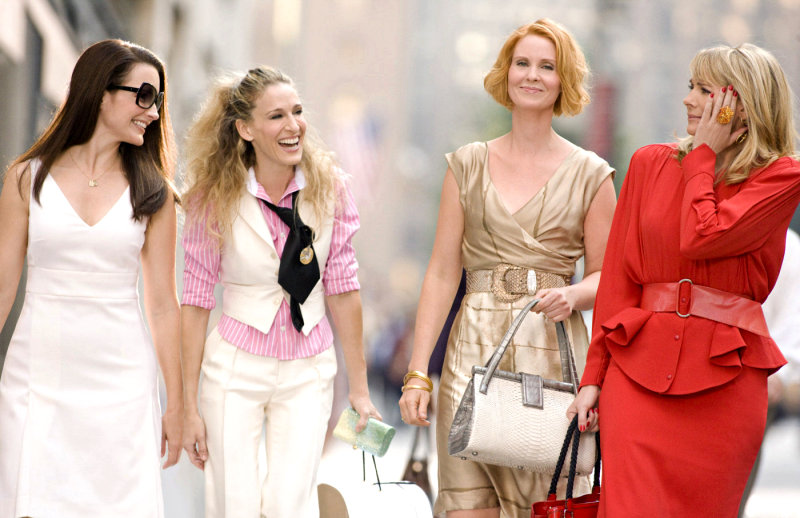 The real Charlotte, Carrie, Miranda, and Samantha or the imposters from the movies?
As usual, I'm way behind the curve, and I'm only now catching up with the news that people have been going to see a movie called Sex and the City 2 with the expectation that it is a continuation of the TV show Sex and the City.
This is the second time fans have been fooled like this.  A couple years ago there was another movie called Sex and the City that was supposedly a continuation of the TV show.
The thing is the TV show can't be continued.  It ended.  I don't mean that it finished its run on HBO.  I mean that its story---woven out of the intertwined stories of its four main characters---concluded.
There can't be a continuation because there is no more story to tell.
For one thing, Samantha is dead.
That should be a big clue right there that the movies are something different and separate from the TV show.  In the movies there's a character named Samantha who happens to be played by the same actress who played the Samantha who was clearly going to die from cancer, if not right away then soon, in the TV show.
The movie character Samantha's cancer is so completely in remission there might as well be a scene in which she goes to Lourdes.
But the TV Samantha's coming to terms with her imminent death was the conclusion of her story.
The movies also have a character named Miranda, played by the same actress who played the Miranda in the TV show, but this Miranda is a rich and successful rising star at a high-powered law firm, which is exactly the life the Miranda on the TV show had to give up in order for her story to end.
Charlotte's and Carrie's stories came to definite conclusions as well.
You can't continue to tell a story that is finished being told.
Some stories, the best stories, really are done when the narrator says, "The End."
There's a reason for telling a particular story and if that reason isn't clear at The End, if the ending doesn't end the story, the story either wasn't told right or well or it wasn't a story.  It was an anecdote or a sketch or the first chapter.
Harry Potter's story is told in one big long book that happens to be seven book-length chapters long.
There are no sequels to a good story.  Casablanca, Gone With the Wind---supposed sequels have been made and written and they've been ridiculous.  Fans who thought they wanted to know what happened to Rick and Ilsa and Scarlett and Rhett after found it more satisfying to go back to the originals to enjoy having the old story re-told rather than suffering through new stories with new characters who happened to have the same names as the characters in the original.
The characters in the sequels were not the characters from the originals.
That's because Rick and Ilsa and Scarlett and Rhett are fictional constructs.  They have no existence outside the stories that made them.  The reason we are interested in these characters is that they are parts of a story.  Without them the story is a different story.  Apart from the story they are different characters.
The Huck Finn who tells the story of Huckleberry Finn is not the same Huck who pals around with Tom Sawyer in Tom's book and the Tom who shows up in Huck's book is a different, less interesting, and less likable kid.
Wanting and expecting characters to go on, to be parts of new stories, is wanting and expecting them to have lives, as if they are human beings.
Obviously there are plenty of famous fictional characters who have "lived" beyond the stories in which they originally appeared and who have "survived" new story after new story as themselves.  But Sherlock Holmes, James Bond, Tarzan, Indiana Jones, Nancy Drew, Pippi Longstocking, and Anne Shirley are peculiar because they are some things other than characters or rather in addition to being characters---they are stand-ins for us.
They are our way into a story.  You could call them our guides.  They carry us into the narrative and they act as our eyes and ears and through them we see and hear other characters' stories unfold.  Each new story they appear in isn't about them.  It's about the strange, new worlds they lead us into and the natives we meet along the way.
A proof of this is the way Sherlock Holmes can disappear from his own adventures for pages at a time and not be missed.
I am a member of the quasi-secret and generally embarrassed and apologetic club of straight men who liked the TV series Sex and the City.  It wasn't great.  There were things about it that annoyed me.  But it was smart, funny, and very well-done.  The acting was good, the writing was usually good, and there was always a chance we were going to see Kristin Davis or Sarah Jessica Parker naked---that possibility was always more intriguing and exciting than all the scenes of Kim Cattrall naked, although those had their pleasures too.
And part of the show's smartness was that it didn't accept its main characters' view of the themselves as the view we should have of them.
I gather that one of the flaws of the new movie is that the actresses are now too old for the parts they are playing.
To me, this is another clue that the movie is not a continuation of the TV show because in the TV show the characters were aging and if their stories could have continued Carrie, Miranda, and Charlotte would be fortysomethings and know it and act it.  Samantha, as I've said, would be dead so her age would be irrelevant.  One of the themes of the TV show was that the characters were already too old for the lives they were living.  They were adults in their mid-thirties living as if they were barely more than kids in their early twenties, and this bothered them.
Well, it bothered three of them.
Samantha didn't care.
But Carrie, Miranda, and Charlotte all wanted to be grownups.  They just had no clue as to how to go about growing up or even what it meant to be a grown-up.  Carrie and Miranda had a vague sense that being a grown-up meant being successful in their chosen careers, and Carrie and Charlotte had a vague sense that being a grown-up meant being married and starting families.  That, though, was about the extent of their awareness.
Slowly but surely over the run of the series all four of them learned that being a grown-up meant having to make hard decisions about what you had to give up in order to be marginally happy.
Samantha, seemingly, had made those hard choices already.  She had decided that she was going to do without love, without being loved and without loving anyone.  She wasn't going to have a family.  She understood that once you start a family, if you are the least bit decent and unselfish, you immediately stop being the star of your own life.
This, in fact, is what Miranda has to face at the end of her story.
Miranda values her independence above every thing else.  She believes, rightly, that she has earned that independence by being hardworking, focused, sensible, and responsible.  That last quality is key.  Of the four, Miranda was always the responsible one or, because she slipped up from time to time, the one who best understood the necessity of being responsible.  And in the end, it's the quality that defeats her.  She has to give up the independence she's earned through being responsible because she is responsible.
This is why our essentially last view of her is of her running through the streets of Brooklyn---not Manhattan---searching for her wandering, senile mother-in-law.  Miranda is going to spend the rest of her life being responsible instead of being independent.  The rest of her life is going to be devoted to rushing to the rescue of her family.
This doesn't mean she'll have to give up her career and become a fulltime housewife and mother.  But it does mean that her job is going to be something she does for her family not for herself alone, which will make it that much more difficult for her.  We don't need to see her later on because we know what her life is going to be like from here on---she'll be running back and forth between home and office, never quite happy or content either place, but knowing she can't give either one up.
Happily ever after for Miranda is knowing that she'd be miserable living any other way.
Samantha, meanwhile, has been living as if she won't ever have to grow up and her life as she knows it and loves it will go on as it is forever.  Basically, Samantha thinks she is eternally young.
Two things happen to disabuse her.  The first is that she falls in love with Smith Jerrod and, almost without realizing it, she gives up her sense of herself as the star of her own life.  The second, of course, is that she gets sick.  She has to face the fact that she is going to die, which in context is the realization that she will not be young forever put in its harshest and most explicit terms.
When we last see her she is on the brink of death.  Not that she's on her death bed.  She's actually feeling quite well.  But it doesn't matter if death will come next week or if her cancer will go into remission for ten years.  What matters is that she knows she will die.  Death has become a defining factor of who she is.  The defining factor.  Which is why I insist that the character can't continue into the movies.  Samantha, that character, is dead, because that character, Samantha as she was throughout the TV series, turns out to have been an impossibility.  That Samantha could only exist---really, seem to exist---as long as the person who thought she was that Samantha believed her life as it was would go on forever, as long as she believed she would never age or die, and as long as she believed she was the only person in the world who mattered to her.
Those were contingent beliefs and Samantha gave them up together and when she did "Samantha" died.
In the end, both Miranda's and Samantha's stories end the same way, with the heroine giving up her conception of herself as the heroine of her own life.
They both give up their idea of who they were in order to become better, stronger, more grown-up people.
Charlotte's ending, although not quite as final, is pretty much the same as theirs.  Charlotte has to give up her idea of herself as a WASP princess whose destiny is to be rescued by a handsome Prince Charming who will carry her off to live happily ever after. 
You can make the case that Harry is a Prince Charming, just not a WASPy one, but if he is he's more of a frog prince who is not fully transformed by Charlotte's kiss.  In fact, with apologies to Disney who stole the idea from Fractured Fairy Tales anyway, Harry's kiss turns Charlotte into something of a frog.  That is, in order to live happily ever after, Charlotte has to come down off the pedestal she's placed herself on and live down here in the swamp with the rest of us.  She has to accept that life is messy, that it has edges that can scrape and cut her, that it isn't always pretty and fun, and that she won't find happiness through getting everything she always wanted because nobody gets everything they always wanted.  Sometimes people don't get anything they always wanted.
Charlotte gets more than most people, but that's really the result of the writers rewarding her for having been the most decent and loving of the four main characters.  The main point is that even Charlotte has to give up her sense of who she is and what she's entitled to be in order to grow up.
Of the four main characters, then, only Carrie is granted an easy and unambiguously happy ending.  But then Carrie was always the most unrealistic of the four in that she had actually wandered into the story from a different kind of story.
Charlotte thought of herself as a fairy tale princess.  Carrie really was a fairy tale princess.
She was Cinderella, updated, with a host of unpleasant characters, many of them men, some of them boyfriends, coming and going over the years acting as her mean step-mother and ugly step-sisters and with no one but herself to act as her fairy godmother.
And like a character in a fairy tale Carrie's story ends, which means that she ends, with the words "And they lived happily ever after."
That the movie's Carrie is not living happily ever after with Big may have struck the writers and producers as a nod at realism is a sign that they were refusing to face who and what Carrie was and that her story, the story, had reached The End.
_______________
I didn't see the first movie because of my feeling that the story was over.  I didn't feel a need to know any more about the characters because I already knew all that there was to know.  But I also suspected that the only way there could be a movie "continuation" of the story was if the producers undid the ending the of the TV series.  Which is apparently what they tried to do.
So I wouldn't see the new movie even if it was any good.  Which it apparently isn't.
Apparently it's bad.